Hankook, a Korean tire company, is in the process of producing airless tires: the iFlex. Made from sustainable materials, the iFlex matches conventional tires in the areas of durability, hardness, stability, slalom, and speed, yet they require half of the maintenance! Learn more. 
Created by Eu-wen Ding, the Lumos helmet is a bicycle helmet with built in LED lights. It has front lights as well as back lights, which indicate turns and brakes. The light signals are controlled by a wireless remote that will be mounted onto handlebars. Learn more.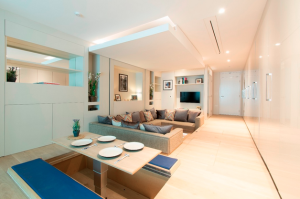 In dense urban environments, living space is invaluable. Yo! Company has just unveiled their Yo! Home, a modularly assembled, stackable, 431 square foot studio apartment. (Sound familiar?)  Using adaptable furniture, and even furniture that comes out of the floor, the Yo! Home has plenty of innovative space saving features. Learn more.
Students at the University of Alabama, Birmingham engineered tornado-proof interior wall panels, and have recently installed their first panels in a Montgomery home! These resilient panels are strong enough to withstand flying debris and over 200 mph winds, yet are 80% lighter than steel. Learn more.
Solar paper– a thinner and smaller alternative to the usual solar charger, which tends to be bulky and uncomfortable to carry around.  Solar paper is thinner than an iPhone, and about the size of an iPhone 6+. Learn more.