It seems that advances in 3D printing are being made every day. Here's one in which metal can be printed with the help of lasers and tiny metallic particles, namely gold and copper. Learn more.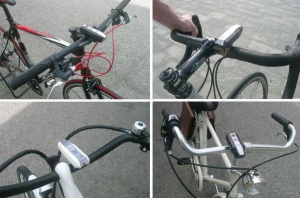 Byxee is a tool to help cyclists navigate the streets and concrete more safely and easily. It is a motion sensor that scans the ground in front of the bike that it is attached to. It scans as far as 80 feets ahead and beeps when a hazard is in its way, be it a pothole or a dangerous object, such as broken glass or a sharp, broken umbrella. Learn more.
Scientists from the University of Cincinnati, the National Taiwan University, and Hewlett Packard teamed up to develop windows that can allow for privacy, taking on the function of blinds, without compromising the light that shines through the window. Essentially, users can turn up opacity levels in windows on command. These smart windows have other functions as well, such as heat control. Learn more.
Tiny homes are rising in popularity across social media. Why? They're cost (and space) effective, they are environmentally sustainable, and they reinforce the idea that less is more.  Check out some great examples of tiny homes.